International Daily Expo / China '16 Post-show Report
International Daily Expo/China '16 was held on April 22 to 24, at Harbin International Exhibition Center in Heilongjiang Province, China.
The exhibition and summit attracted dairy industry professionals from 36 countries and regions to Harbin, the Little Paris of the Orient.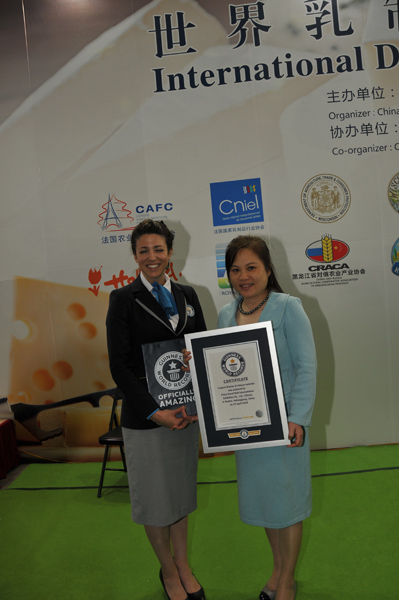 About the Expo
This year, 310 companies from 20 countries and regions exhibited on 2016 China International Dairy Expo, including 6 national pavilions representing France, the United States, the Netherlands, Germany, Russia, and New Zealand. International delegation, China's leading dairy enterprises, Chinese Dairy Industry Technology Innovation Alliance Zone, China State Farm Dairy Alliance Zone, Dairy Processing Technology Achievements Zone, China Dairy Suppliers Union Zone, and Domestic Ranch Fresh Milk Bar Union Zone revealed their products and achievements from different perspectives.
The Expo's indoor and outdoor display totaled 25,000 square meters, with exhibits covering the whole industry chain, including cow farming, ranch facility, logistics, processing and packaging, safety inspection and testing equipment, ingredients, dairy products, etc. From the perspective of exhibiting products, cow farming and ranch facility account for 62%, dairy products, byproducts and related industries account for 32%, and the remaining 6% goes to research institution, media, association and international organizations. From the perspective of geography, international exhibitors account for 32% and domestic enterprises account for 68%. Compared with 2015, the proportion of dairy products and related companies has greatly increased.
According to statistics, a total of 25,000 professionals from 36 countries and regions visited the expo, including delegations from India, Nepal, South Korea and other Asian countries. Purchasing managers from e-commerce platforms like Jingdong and Benlai life, as well as supermarket chains like RT-Mart attended the event. Organizers also arranged more promotion activities to lead the consumption of dairy products themed as pasteurized milk, cheese, which receives appreciation from media.
Exhibition and Summit Highlights
1. Continuation of international, innovative and high-end features of previous exhibitions and summits.
The VIP international participants including New Zealand Minister of Ministry for Primary Industries, Deputy Director & Chief Veterinary Officer of French Food Safety Bureau of Agriculture, Food and Forestry Ministry, Vice Governor of Dutch Friesland Province, French Ambassador and Ireland Ambassador, etc. At the same time, 7 dairy companies from the world's top 10, Nestle, Rand Reese, Danone, Fonterra, Royal Friesland, Allah, and Yili attend this event. So did Mengniu, Sodiaal, Nord Humana, and SAVENCIA, which ranks 11th, 12th, 13th, and 14th respectively. Mr. Lu Hao, Governor of Heilongjiang Province, Mr. Wei Chuanzhong, Chairman of China Society of Inspection and Quarantine and other leaders from General Administration of Quality Supervision, Inspection and Quarantine of the People's Republic of China, China Food and Drug Administration, National Health and Family Planning Commission of People's Republic of China, China National Center for Food Safety Risk Assessment, and China Dairy Industry Association attended the opening ceremony and the summit.
2. Colorful onsite activities covering farming, processing and consumption.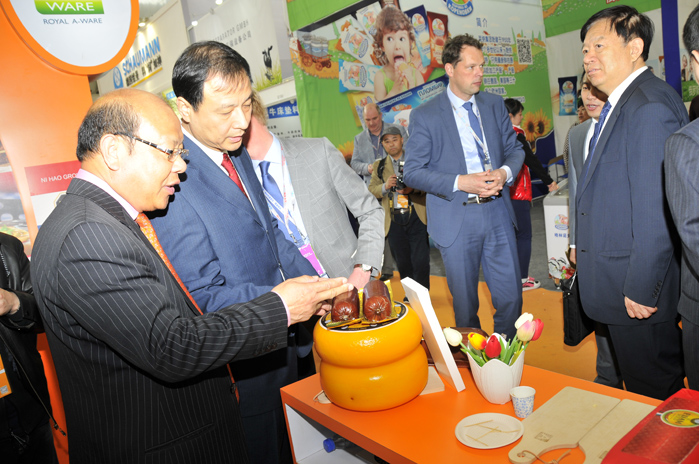 From April 21st on, nearly one hundred leading experts and professionals shared their research results and expertise with the audience during 29 forums, which had been applauded by the industry. Dairy innovation, products security and upgrading become heated topics of the event. Some of the spotlight topics such as infant formula, pasteurized milk, yogurt, cheese and milk are addressed heatedly. In particular, the interpretation of quality and safety regulations, and development of detection technology are of most significance, which are discussed in six in-depth rounds from varied angles.
Forums were held in a lively and interactive atmosphere. Officials, experts and farmers carried on face-to-face conversations, with officers concentrating on policy interpretation and guidance, experts on substantive ranch operations and policy implementation, and farmers on their expectations description. It is more than an exchange and communication, but rather a profound brainstorm.
3. An epoch-making moment in China's cheese industry
In pursuit of diversification in Chinese dairy industry and acceleration of upgrading China's dairy consumption, French national cheese master led a cheese tasting demonstration and presented a wonderful cheese art performance on 22th, which helped spreading the cheese culture and fostered a larger group of consumers. On April 23th, GUINNESS WORLD RECORDS Title for Largest Display of Cheese Varieties activity brought the expo to a climax. Attendants had the opportunity to taste varieties daily products from France, America, Holland, Russia and Ireland. More than 500 pieces of cheese, mainly from Wisconsin and the Netherlands were displayed. For the first start, the site was crowded with curious and expecting spectators. The vast majority, even the veteran dairy industry at home and abroad had never seen so many varieties of cheese collection. The whole process lasted more than four hours. Taste crowd queued around the site in with excitement and expectation! 300 kilos of cheese was consumed in just over one hour. The full success of this event reflected the new needs of the consumer market and we expect Chinese dairy companies respond actively to the signal of market enthusiasm.
2017 International Dairy Expo Kicks off
The next International Dairy Expo will continue to be held in Harbin, which will focus on modern dairy farming and brand new dairy products
This year, by using of event marketing to spread high-quality milk product knowledge, we're determined to push forward dairy industry upgrading and boost the development of dairy industry. GUINNESS WORLD RECORDS and the International Daily Products Tasting activity are two of the examples. Looking into the year 2017, research and development on new daily products will be integrated further with more on-spot performances and activities to popularize the new products. Besides, a series of measurements are to be taken to promote livestock assessment home and abroad, and so on.