Review of the 13th World Dairy Expo & Summit/China 2015
The World Dairy Expo & Summit / China'15 which was held in Harbin from April 22 to 24, 2015 was successfully closed. As Asia's most influential dairy industry event, this year's World Dairy Expo & Summit / China has attracted delegates from 36 countries and regions to gathering in Harbin city which is well-known as the ice city.
1. Overview of the Exhibition
306 exhibitors from 24 countries and regions have participated in the World Dairy Expo/China, among which the USA, Netherland, France, Germany, Russia,Poland have participated the Expo by organizing nation exhibition groups. According To Statistics. Professionals of dairy industry from 36 countries have been present at World Dairy Expo & Summit / China'15. The numbers of attendance have reached 15728, Including the professional purchasing and visiting groups from India, Thailand, and Australia etc..
The exhibition includes outdoor area and indoor area, the gross exhibition area was 25,000m2. Exhibits covered the whole dairy industry chain from cattle breeding, feeds, farm management, and processing equipment, packaging equipment, logistics, dairy analyzer; quality inspection equipment & instruments to various dairy products. Regarding the structure of the exhibitors, cattle breeding and farm facilities account for 76% of the exhibitors. Dairy processing and related industry account for 17%. Association, international organization, media, Research Institute and consulting services account for 7%. By region, oversea companies account for 37% and domestic companies account for 63%.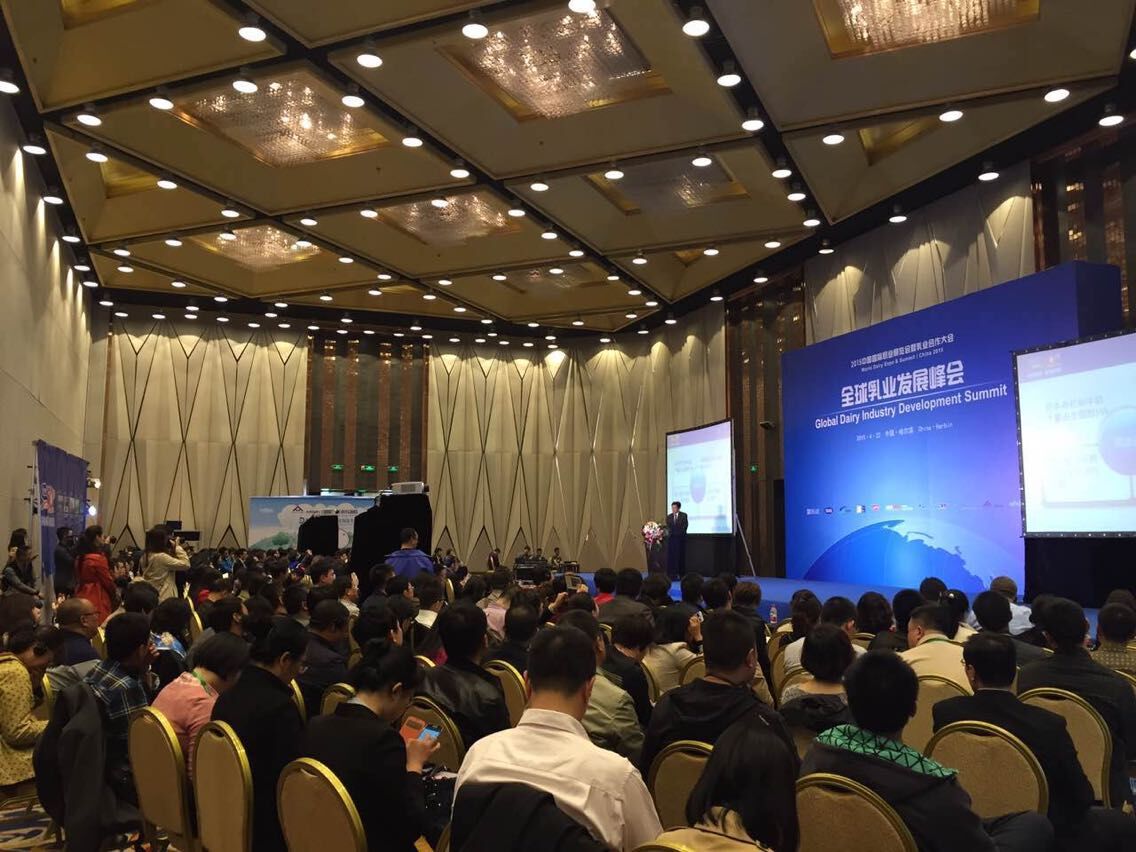 2. Highlights of the Expo & Summit
a. World Dairy Expo & Summit/China'15 was strongly supported by People's Government of Heilongjiang Province and Administration of Quality Supervision,Inspection and Quarantine. Under the cooperation of CSIQ, General office of Heilongjiang province, Foreign Affairs Office of Heilongjiang Province and Heilongjiang Husbandry & Veterinary Bureau, We've made this year's World Dairy Expo & Summit a well organized and highly international trade show. The influence and the attention attracted has been beyond the past. 7 of the world top 10 dairy companies(Nestle, Danone, Fonterra, Royal Friesland Campina, DFA Arla food and yili), The world famous farm equipment companies and software companies such as GEA, SCR, CLAAS, as well as Animal health and nutrition companies such as MSD, Zoetis,Boehringer-Ingelheim have all participated in the Expo & Summit.
According to statistics on-site, more than 70% exhibitors are satisfied with the effect of the Expo. Some of the exhibitors expressed that this international and professional Expo is amazing and has surprised them. More than 50% exhibitors has expressed their willingness for attending the next year's World Dairy Expo/China. Some of them have filled out the booth application form for next year on-site. Overseas exhibitors have gotten an common recognition that the show is productive and they've gained a lot through the World Dairy Expo/China. According to information collected on-site, dairy companies of Russa,Belarus, Poland and the United States have all gotten cooperation purpose from Chinese companies and distributors.
b. The summit,rich content, lively scene, innovate topics
During the show period, many high-end forum have been held, such as China-US forum, Global Dairy Industry Development Summit, Global Dairy Farmers' Round Table Meeting,etc. The summit had a full house for every forum, There were always standing audience for every forum. Besides, There were many professional forums and seminars, such as seminar on market prospect of infant formulated milk powder, seminar on nutrition of pasteurized milk and market prospect, have attracted an amount of professionals. They have expressed their views and suggestions on topics of China's dairy industry sustainable development.
The participants spoke highly of World Dairy Expo & Summit/China'15 in all aspects such as large amount of information, high marketization level. high technicality, innovativeness.etc.
3. Mercerization operating and strong support by the government to build new international communication platform
World Dairy Expo & Summit/China'15 has been mercerization operated by 3 enterprises and public institutions. The government of Heilongjiang province has also offered great support. This is a successful case of organic combination of social forces and government forces.
As one of the conventioneer commented, this is an insurmountable success, it's a high-end event but also Pragmatic.
4. The Expo & Summit provided a platform for attracting investment to Heilongjiang Province.
World Dairy Expo & Summit/China'15 was held in Harbin, Heilongjiang. It has created an opportunity introduce Heilongjiang to dairy professionals from all over the world, about Heilongjiang's historic and natural advantages, the dairy industry development strategy of Heilongjiang and the Vision and pragmatic style of work of The government of Heilongjiang province.
China Great Wall Exhibition Co., Ltd
April 27, 2015
Annex: Comments of some important customers
Mr. Zhaolin Li, Inner Mongolia Dairy United
"Thank you so much for create this plat-form of communication. Chinese dairy industry needs this pragmatic plat-form, the development strategy made by Heilongjiang province and the work style of government of Heilongjiang province will help making Heilongjiang become the most important dairy industry base of China in a short time."
Mr. Zhimin zhang, President of dairy industry association of Shandong province
"Timeliness and practicability of this year's World Dairy Expo & Summit is beyond expectations. I've really benefited a great deal. I'll definitely participate in the next year's World Dairy Expo & Summit by organizing a Shandong exhibitor group and the Shandong dairy forum.
Ms. Tong Wang, Commercial and Agriculture service of the Embassy of the United States.
"I've never been to such a seminar like this, all rooms were packed and I've been standing for 1 hour till I find a seat"
Ms. Jennifer Lu, responsible person of the US pavilion
"The service of this year's World Dairy Expo & Summit offered the organizing committee and government of Heilongjiang is perfect. The effect is intense, I really appreciate it!"
Mr. Hao Su, General director of East Rock. Ltd
"It's really exciting to see the cow clip producted by East Rock appeared on the news of CCTV-1."