Notice for Booth Building
1. Data of Exhibition Hall
Dimension of the door for exhibits: 4.1m (Width)*3.8m (Height)
Limited height for booths: indoor 6m, outdoor 4.5m
2. The shell scheme is equipped with: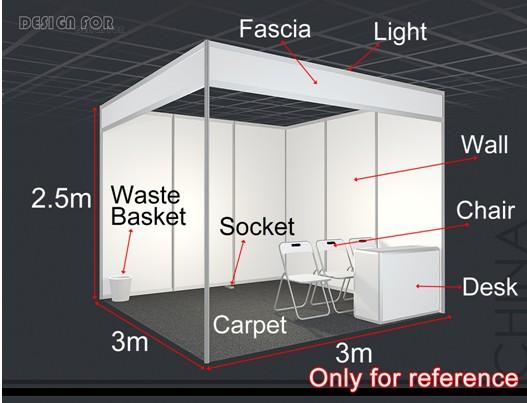 Partition wall: white double-sided board with 6200px(H).
Fascia: 200mm (W)* 2930mm (L) with an aluminum alloy frame (300mm)
Furniture: 1 consultation table, 2 folding chairs, 1 Waste Basket.
Outlet: 220V. (Equipment power need to be applied for)
Lighting: 2 Spotlights.
I. Construction Drawings shall be delivered by Raw Space Exhibitors or Raw Space Contractors to China Great Wall Int'l Exhibition Co., Ltd. before March 30, 2019 for approval from Public Security Dept. Constructio
Raw Space Construction & Management Fee

15RMB/m2

Extra-time working, fee

5RMB/m2/hour 17:00-24:00

10RMB/m2/hour After 24:00

Deposit of construction(Only for raw space booth, refund after dismantling)




Below 50 m2,3000RMB

50m2-100m2,5000RMB

Above 100m2,8000RMB
II. If you need to apply extra-time working, please apply at the Service Counter which is at the west of Hall A before 16:00 during booth build-up period and pay extra-time working fees accordingly. The price is 5RMB/m2/hour(double charge after 24:00)
III. Parking:
1)Cars
During the exhibit period, the Parking lot on the north side of Hall A is available for cars
Parking fee: 5RMB for first 2 hour, 1RMB/hour from third hour
2)Trucks
Trucks should enter from gate 8,9 on Taishanbei Road and get out through gate 10on Huanghe road.The parking lot next to gate 8 is available for trucks.
Recommended Raw Space Contractors:
Beijing ChuangShiDaRong Enterprise Planning Co., Ltd.
Contact: Ms. An Na
Tel: +86-10-87364745, 13910584243
HRB HIT GROUP EXHIBITION FACTURE CO.,LTD
Contact:Mr Zhao Haitao
Tel: +86-451-82273736, 13613673727
For more information, please contact:
Mr. Hugh Wang, Ms. Yu Wen Hui
China Great Wall International Exhibition Co., Ltd.
Tel: +86 10-88102251, 88102255
Fax: +86 10-88102268
E-mail: wangshuo@chgie.com; wenhui@chgie.com